Events, Openings and Festivals
Birley Bakery - Chelsea's tastiest new opening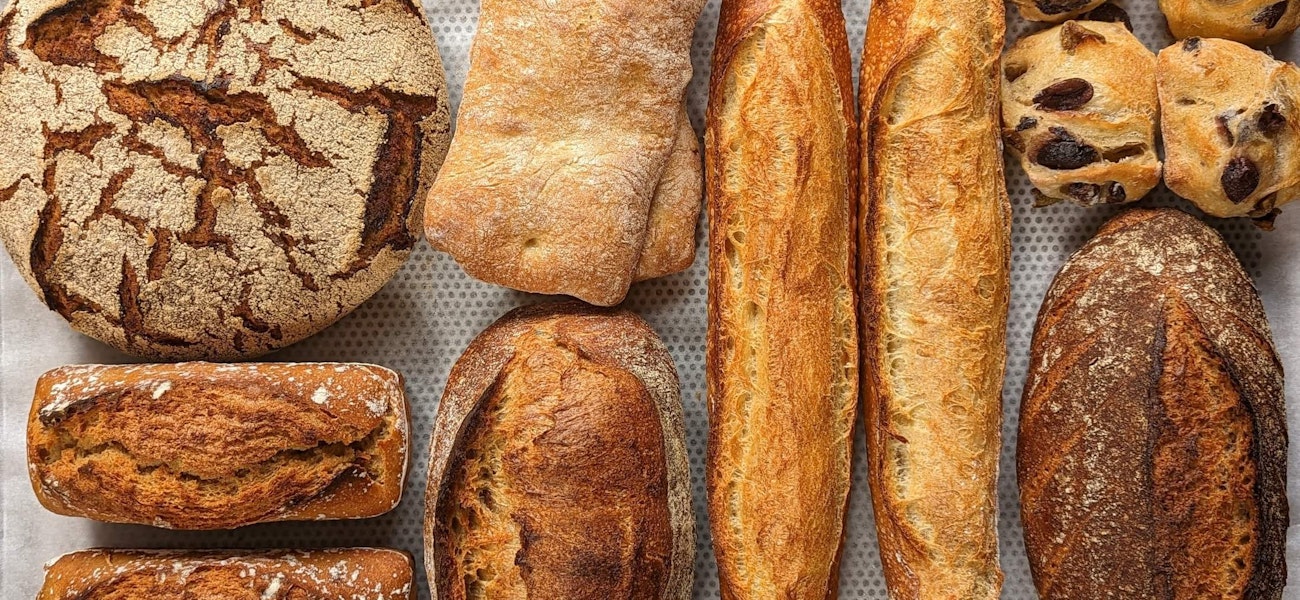 Introduction
Now open on Chelsea Green, Birley Bakery is a chic new addition to the Chelsea community from Robin Birley
Known for his glamourous private Mayfair members clubs 5 Hertford Street and Oswald's, Robin Birley has finally brought this magic to Chelsea with the opening of Birley Bakery on Chelsea Green. This beautiful cafe offers fresh breads and viennoiseries which are baked on site throughout the day and a range of exquisiite pâtisseries, cakes, chocolates and biscuits. It's the perfect place to meet friends or retire to for a coffee and an indulgent treat.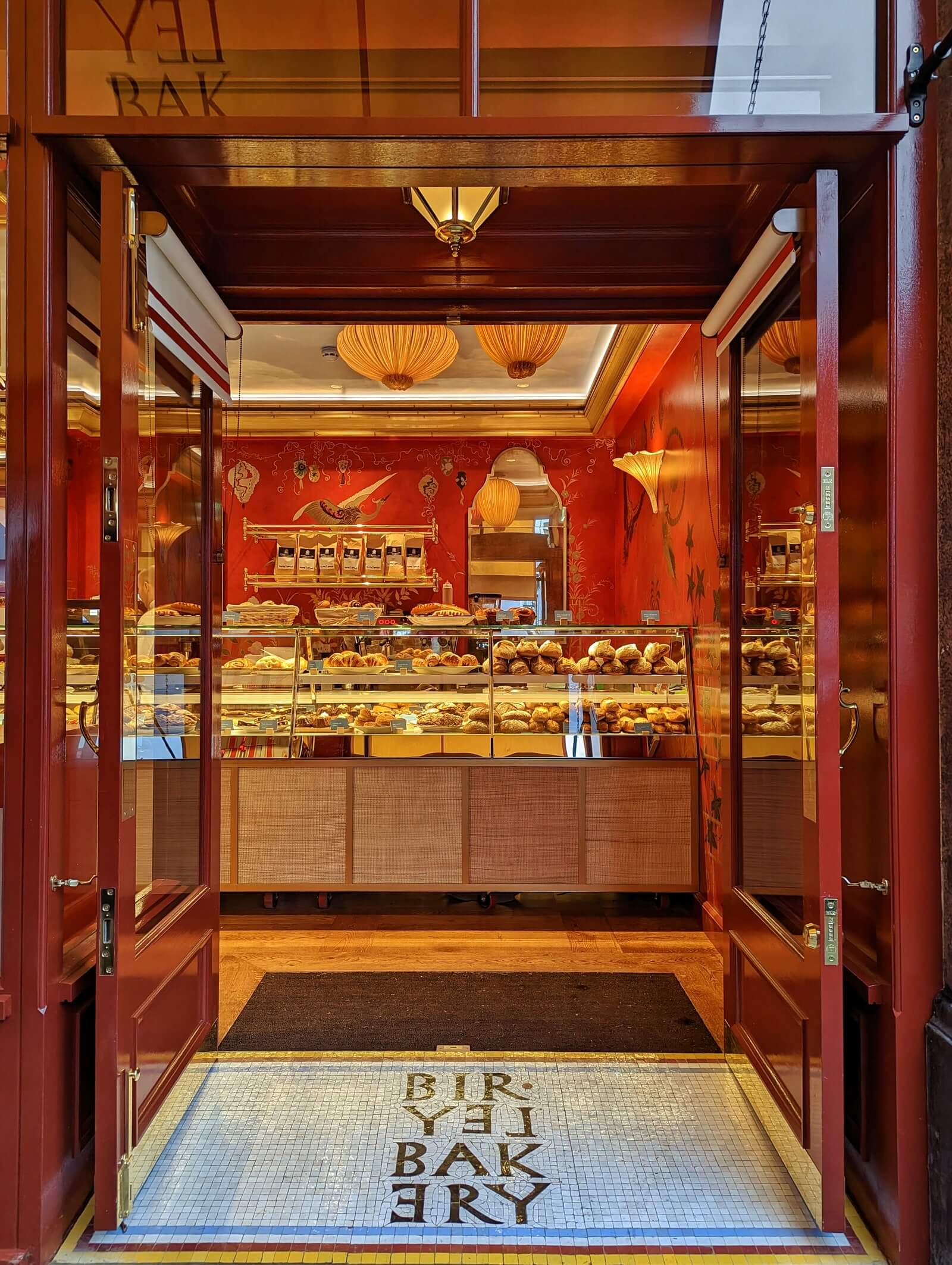 The bakery is overseen by Birley's Executive Pastry Chef, Vincent Zanardi, who has also devised a unique creation, the cravat (so named because an early attempt looked, he joked, like a tie). The inspiration came from a bread he ate in Brittany, 'with lots of garnishes… and then slowly, slowly, this piece of bread… became something much more refined.'
The bakery is not intended to be exclusive like a club,. It's intended to be busy, local, friendly, beautiful in its look, calm in its feel and most importantly, open to everyone.
In addition to the culinary delights, the bakery is also a visual feast, inspired by fin-de-siécle tea-houses. The lapis lazuli-blue tables are made from repurposed yoghurt pots; and individually-crafted rattan lampshades hang jauntily overhead. Another highlight is antique delft tiles, which Robin bought at auction decades ago and stored until the ideal place could be found for them. They form the backdrop to a theatrical open kitchen, where passers-by can see Zanardi and his team at work egg-washing croissants and sugar-dusting cakes.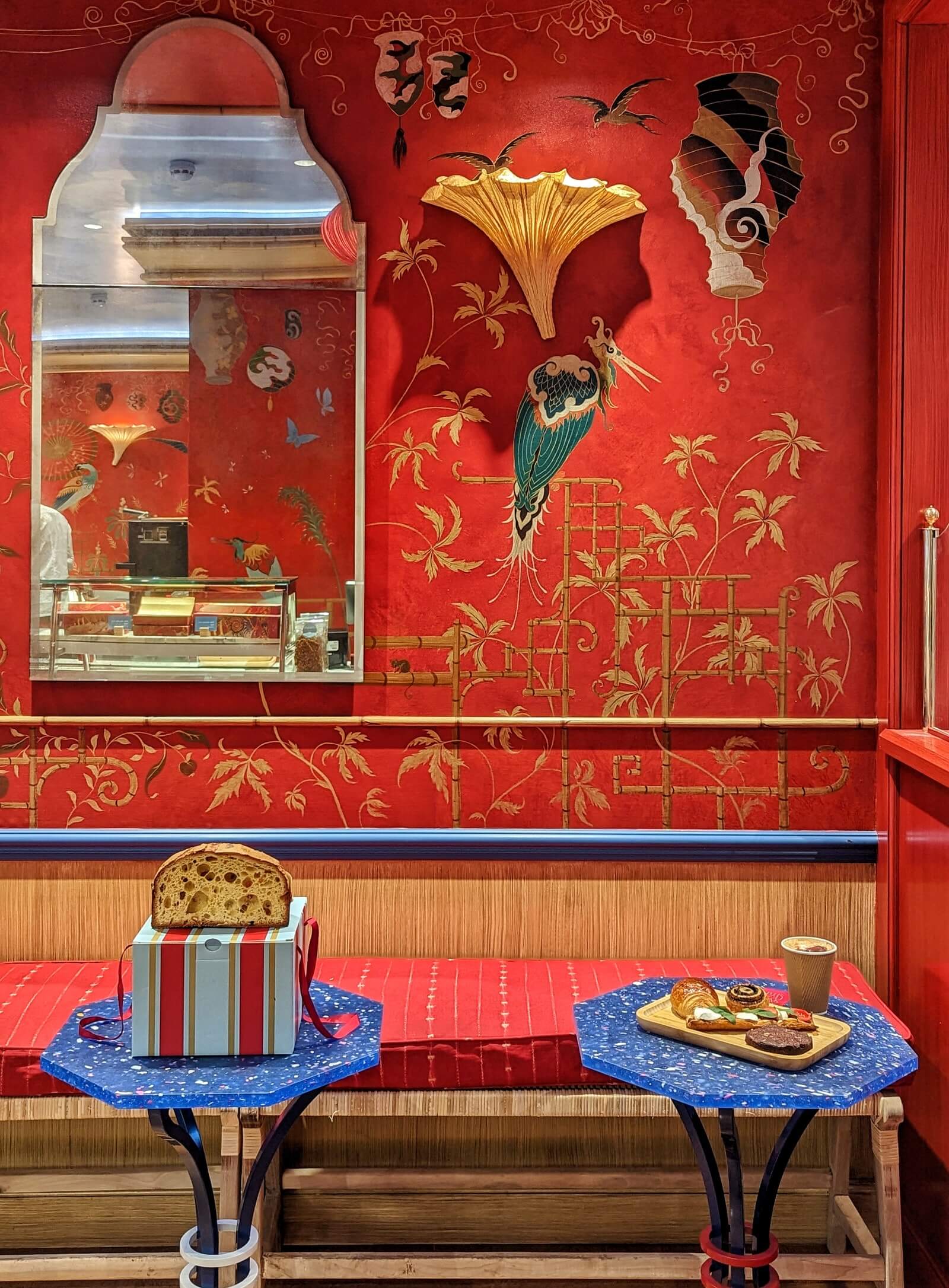 But Birley Bakery's pride and joy, however, are its whimsical murals, hand painted by artist Lizzi Porter. They were inspired by a Japanese 18th-Century panelling that was up for sale at Christie's. Peacocks and butterflies dance among a whirl of intricate chinoiserie, set atop a rich red background. The same design adorns the covetable boxes for the bakery's hand-made chocolates. Look up and you'll see fluffy clouds dancing in a pastel-blue sky with Peg, Robin's dog, hidden in the painted ceiling.
Birley Bakery is located a short walk from Auriens Chelsea at 28-30 Cale Street, London SW3 3QU